The Wizard Shop was the name of a magic shop located underneath Times Square in a kiosk near an entrance to the subway. It's proprietor was a magician named Alwyn (Al) Stevenson. The primary purpose of this site will be to remember Al and his contributions to Magic. We're including quotes and stories from the magicians who knew him best; please come back and visit us often.
Recently found: Al's Obituary, taken from an article by Leslie P. Guest in M-U-M, February, 1966.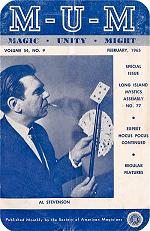 Al was featured on the cover of the February, 1965 issue of M.U.M., the publication of the Society of American Magicians. We're hoping to get permission to reproduce the article.
Dondrake calls Al "my mentor", Charles Windley said that "Al was an excellent magician. He was the publisher of 'Hugard's Magic Monthly' after Hugard died in the late fifties. Al wrote most of the articles."
Al is remembered as being one of the first magicians to perform sponge ball magic. According to legend, he and his assistants would cut the sponge balls by hand. Later on, he helped develop the method currently used by the Goshman family to create sponge balls, rabbits and more. Goshman sponge balls are considered to be the standard, so Al's work lives on every time a magician works with them.
Christopher DeSantis sent us some photos and a typical Al Stevenson Routine.
Marvin Kaye, author of several magic books, sent us a quote.
According to several guests who visited Disneyland in the early 70s, one of the books sold at a store near the Haunted Mansion was written by Al. The cover of the book, Magic from the Haunted Mansion in Disneyland, can be seen here..
Here's another page about the book.
Al also manufactured a number of effects marketed under the name The Wizard Works. See the scans from Wizard Works catalog number 3.
Here are some links to other web pages that have information about Al -- some of these links (below) include references to Al's reputation as a mentalist.
Al wrote a number of books about magic. Two are currently available at Amazon.com: 75 Tricks With a Stripper Deck and 75 Tricks With a Svengali Deck. He also contributed to the Ultra Mental Booklet about the Invisible Deck -- I'll post a link to that as soon as I can find one.
Mention of Al in Backstage number 3
Story about Al in Backstage number 5
Dondrake mentions Al in his autobiography and in an article.
Thanks to Don for all of his support and for putting a link to our site on his.
Information about a piece of fiction called "The Dead Can Come Back - My Way", written by Al, published in Fate Magazine, Issue #115, VOL 12 - No. 10, October 1959
A listing for an article Hypnotizing by Telepathy published in Fate Magazine, VOL 13 - No. 10, October 1960
An advertisement for I Can Hypnotize Your Friends
See the cover for the booklet that goes with this package.
Thanks to D. Harvey for sending me scans of the booklet. I've only posted the cover for copyright reasons.
A listing for an article about Al in Genii Magazine - scroll down to Vol. 3, No. 35, March 1965
Al listed as a member of the Abraham Lincoln Brigade who fought in the Spanish Civil War.
An Adobe Acrobat document that lists Al's name as a prisoner of war held by Franco in Spain.
Have a story about Al? Send it along to the site owner
Why is this web site here?
I'm related to Al by marriage; a rekindled interest in magic led me to do some research on him. I met Al at the age of 5 or 6; I remember him doing some sponge ball magic for me. He passed away shortly after I met him in 1965. His passing was noted in Genii magazine: Vol. 30, No. 5, Jan. 1966.